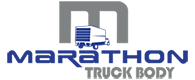 Marathon Truck Body Upfits
---
Marathon's heritage in the Truck Body Industry dates back over the last forty years, into the early 1970s. Our company occupies over 10 acres of production, chassis storage, and administrative space. Marathon's main business is the manufacture, assembly, installation, and repair of truck bodies, trailers and transportation equipment. We also offer a wide spectrum of truck parts and accessories encompassing most major brand names as well as our own proprietary products.
View Marathon Truck Body Upfits
---
Marathon Cutaway Van
Models available in Aluminum or FRP. Anything from refrigerated to parcel delivery, from service bodies to sercure transport. If you're looking for a medium-sized commercial vehicle, Marathon Cutaway Vans are a great choice.
View Marathon Cutaway Vans
---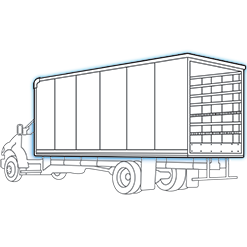 Marathon Dry Freight Body
Our aluminum Dry Freight body boasts a height and width of 96" and comes in a variety of lengths from 10' to 28'. Each model comes standard with large front wind deflector panel, hardwood floor, interior dome light, rear grab handles, and a limited 5 year warranty. Additional features include different styles of bumper, different rear doors, liftgates, ramps, and roof vents.
View Marathon Dry Freight Bodies
---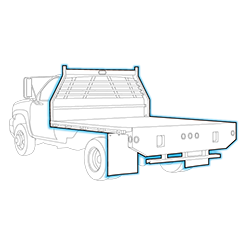 Marathon Platform Body
Platform models vary from 8'-16' in length. They all come standard with 42", solid or mesh, headboard. Additiona options include different bumpers, floor materials, headboard height, liftgates, and hitches.
View Marathon Platform Bodies
---
Marathon Stake Bed Body
Our Stake Beds begin with our strong and durable Platform Body with added stake gates and rails. Stake gate and sides are 42" to match the headboard. Body sizes available from 8'-16' in length. Additional options include hoists, liftgates, winches, extra-tall stake gates, swing-out vs. swing-down gate, and different gate materials.
View Marathon Stake Bed Bodies
---
Marathon Contractor Body
Our Contractor Bodies are the definition of attention to detail: no weld marks on the rails, no sap bubbles in the composite, punched headboard for added durability. Available in 10'-16' lengths, with fold down rear stake gates of composite and stainless steel and both top of bed and under slung storage boxes. Options include different racks, stake gate materials, trailer hitches, and floor materials.
View Marathon Contractor Bodies